Assessing the Growing Market for Condition Management Solutions
February is a big month for the Moore family. Our founder and all his children have February birthdays, so to celebrate, we are giving a gift back to the industry! For this year's Free February, we chose our report on the emerging market of apps, devices, and other digital health technologies that help patients manage chronic conditions.
Watch analyst Brian Eastwood's webinar that accompanied the release of this report:
Increasing pressure to control rising healthcare costs related to chronic conditions has led the industry to begin exploring the use of mobile apps, devices, and other digital interventions that help patients manage the symptoms of these conditions. Interest is understandably higher among the stakeholders responsible for paying for care than it is among those who deliver care, but the growth of value-based care (VBC) models is expected to drive greater adoption among provider organizations.
Selling to these stakeholders forces vendors to prove both clinical efficacy and return on investment (ROI) for their solutions. It also forces vendors to demonstrate ease of use and improved efficiency, as user adoption evaporates in the absence of these qualities. While this has presented hurdles, it has also forced the condition management market to mature quickly, with dozens of clinically proven solutions on the market: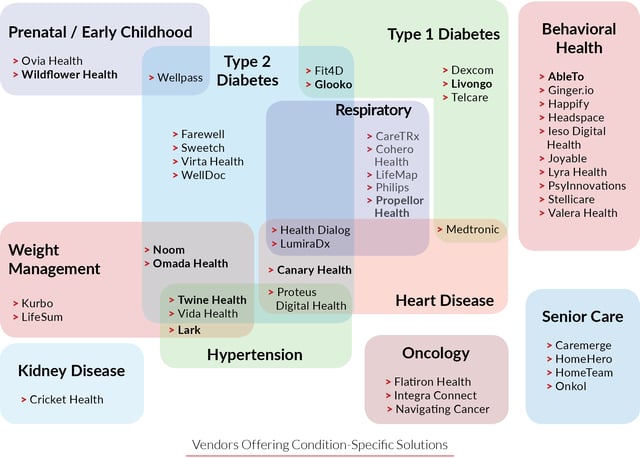 This report examines the market forces driving current adoption of these technologies, looks at what we expect the future to bring, and provides profiles for a select set of market leaders (listed below). As the march to VBC continues, convergence between payers and providers will shift these solutions closer to the point of care. Learn what has made these companies stand out from the pack and what to think about when planning to implement your own condition management programs.
Vendors Profiled: AbleTo, Canary Health, Glooko, Lark, Livongo Health, Noom, Omada Health, Propeller Health, Twine Health, Wildflower Health
Report Length: 45 Pages
Cost: FREE